Hybrid Building Systems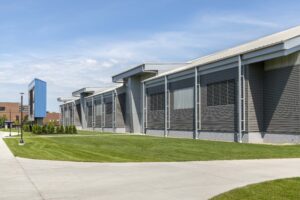 As a pre-engineered metal building contractor, I would love to tell you that every building can be constructed using a metal building system. But, while metal buildings are highly diverse and their capabilities continue to grow, there are better solutions than traditional metal buildings. A hybrid building system can be a great alternative when a traditional metal building cannot be utilized.
Hybrid buildings are building systems that incorporate conventional steel with pre-engineered metal building components. By utilizing conventional steel and metal building components, the overall construction project is more cost-effective and efficient than traditional steel construction methods alone.
A Typical Hybrid Building
A typical hybrid building utilizes conventional steel for the primary framing of the building and metal building components for the secondary framing, roof and/or wall covering. Conventional primary framing can include heavy trusses, bar joists, hot-rolled conventional columns and beams, latticed columns, etc. Metal building components include cold-formed roof purlins, wall girts, metal roof panels, and metal wall panels.
When Hybrid Makes Sense
Multi-story
Pre-engineered buildings often incorporate mezzanines and full second floors. But a metal building often does not work when you get beyond two stories. For example, a 4-story paper mill with heavily loaded floors would exceed the capacity of a pre-engineered building.
Heavy Crane Buildings
When multiple, heavily loaded cranes are within a building, conventional steel framing may need to be utilized. This is where latticed columns can come into play. We have seen conventional columns used up to the crane elevation and then a pre-engineered building installed on top of the conventional steel.
Tall Buildings with Large Clear Span
Metal buildings are known for their ability to incorporate wide clear spans cost-effectively. For example, we constructed a field house for the University of Buffalo that housed a football field. The clear span was 210 feet, and the clear height was 29 feet with a 5:12 roof slope. That being said, a domed football stadium would not be within the capacity of a metal building frame; conventional steel framing is the only solution.
Strict Column & Rafter Restrictions
Metal building framing is the most cost-effective, with no depth restrictions on the columns or rafters. If a specific clearance is required within the building, having the building grow its footprint or height to accommodate the clearance is more cost-effective than restricting the steel depth. When the framing depth is restricted, the steel has to be thicker, which increases cost.
However, sometimes it is not practical or desirable to increase the building size. While you can restrict the columns and rafters down to accommodate the clearance requirements, it makes more sense to go with conventional framing at some point.
Lead Time
One of the major bottlenecks is the primary framing. Metal building primary framing is made of 3-plate steel, meaning three pieces of plate steel are welded together to create the I-beam shapes. Clips, stiffeners, and plates are then welded onto the I-beams to create the columns and rafters.
The lead time for the plate steel is extremely extended, but in addition to material lead times, there is a need for more welders to fabricate the frames.
We have recently taken an approach on a few projects: have the primary framing and bracing handled by a local steel fabricator, and utilize pre-engineered secondary and sheeting. The projects are more expensive than a traditional pre-engineered building, but for these clients in particular, the schedule was much more important than the price.
Summary
The bottom line, when a building's design requirements exceed the capabilities of a pre-engineered metal building, it makes sense to consider a hybrid approach. Utilizing a hybrid design will still be more cost-effective than a true conventionally constructed building.